The final trailer for Fast & Furious: Hobbs & Shaw is here. Universal's upcoming Fast & Furious spinoff follows Dwayne Johnson's Luke Hobbs and Jason Statham's Deckard Shaw as they're forced to do battle with a cyber-genetically enhanced terrorist named Brixton (Idris Elba). The film's marketing has heavily played up the rivalry between the pair - who, lest we forget, tried to beat one another to a pulp in their first encounter - and the now customary physics-defying stunts that audiences associate with the Fast & Furious brand. And, by the look of things, it's gotten the job done.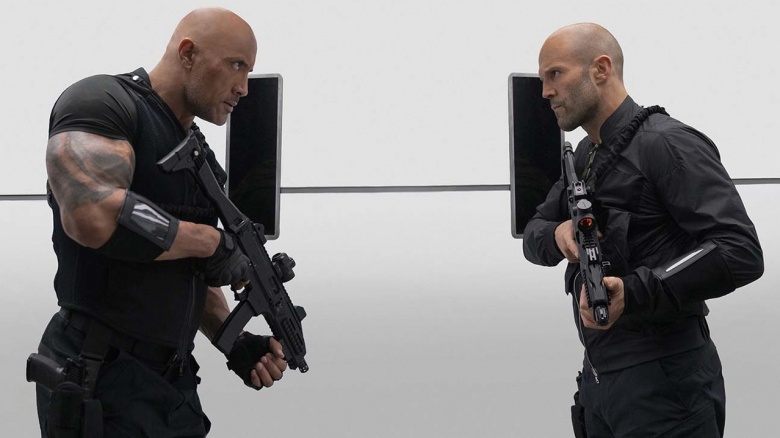 But of course, with just over a month left before the spinoff hits theaters, Universal isn't done marketing Hobbs & Shaw just yet. The studio only just unfurled an EW magazine cover set featuring Johnson, Statham, and Elba in stylishly dust-covered suits (see here), and recently confirmed that the film's final trailer would arrive today. The preview is expected to begin showing with Universal's musical fantasy Yesterday on the big screen this weekend.



With the basic plot established by this point in the Hobbs & Shaw marketing, this final trailer is free to focus solely on the movie's biggest set pieces and vehicular-related mayhem. However, in-between the London street races and Hobbs hooking his truck onto Brixton's helicopter, the preview includes a few scenes assuring that the spinoff will carry on the Fast & Furious tradition of emphasizing family and its importance when it comes time to saving the world (which Hobbs has, in fact, done a few times by now). And as heavy-handed as these moments can be, they're essential to this franchise and have helped to sustain its popularity for almost twenty years. Otherwise, these films would be little more than empty spectacle.




On that note: Hobbs & Shaw is part of an incoming wave of films that aim to kick things up a notch after a couple months' worth of under-performing early Summer 2019 offerings. It hasn't been all bad news, of course, but would-be tentpoles like Godzilla: King of the Monsters, Dark Phoenix, and Men in Black: International have all disappointed critically and commercially of late; even Toy Story 4 opened below expectations, despite terrific word of mouth. As such, it falls to upcoming movies like Spider-Man: Far From Home, The Lion King, and Hobbs & Shaw to save the day for Hollywood this summer. Fortunately, all three seem up to the task.