Nicolas Cage and John Travolta have both taken on their fair share of crazy roles over the years, but in 1997, they collided for a different kind of insanity in John Woo's action film Face/Off, which saw their two characters, as you would expect, trading faces. While we never got a Face/Off sequel, word's come in that plans are in motion to reboot it.


For those who've never seen Face/Off, it revolves around FBI agent Sean Archer, played by John Travolta, and terrorist mastermind Castor Troy, played by Nicola Cage. Troy is knocked into a coma at the beginning of the movie while Archer is in pursuit, and because Archer learned beforehand that Troy had hid a bomb somewhere in Los Angeles that's set to go off in days, he undergoes an experimental face transplant to go undercover as Troy and figure out the bomb's location. Unfortunately for Archer, while he's on this mission, Troy awakens from his coma, discovers his face is missing and proceeds to steal Archer's identity and kill the surgeons that carried out the transplant. Archer must then race to stop Troy, the man who murdered his son years earlier, from wreaking havoc on his personal life, all while looking like his arch-nemesis.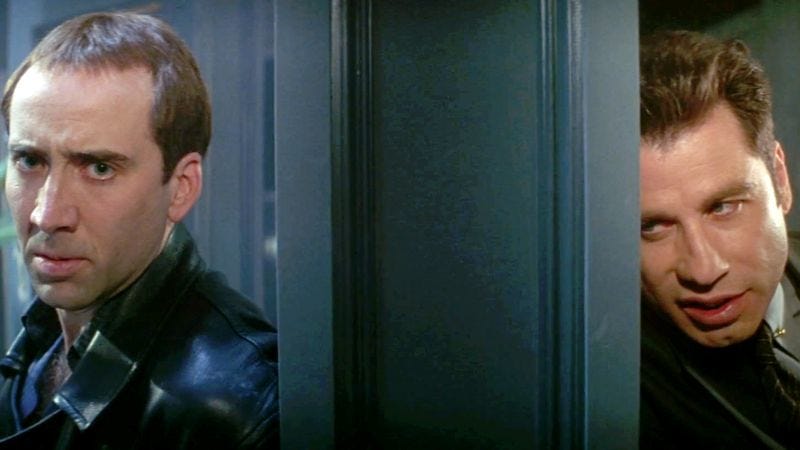 Of course, as with any reboot/remake, the chances of this new version of Face/Off being anywhere near as enjoyable as the original, if not exceeding in quality, will be difficult. Besides having two big-name actors and a talented director, Face/Off boasted a kooky energy that's difficult to replicate. Will the reboot try to pull off a similar tone or go for a different kind of feel? If it goes in that different direction, will that be enough for it to stand on its own? We shall see.
Stay tuned to CinemaBlend for more updates on the Face/Off reboot. For now, keep track of what movies are coming our for the rest of this year in our 2019 release schedule.